Demographics
Population estimate
How we arrived at the estimate
Two interesting facts about who lives at the indigenous residences
Many families live with parents or married siblings
Families are divided between Mexico and the U.S.
Preteenage children left behind in Mexico
We estimate that the total population of California's indigenous Mexican farmworkers is about 120,000. When we add on our estimate of 45,000 children living with them, we presume that there are a total of 165,000 indigenous farmworkers and family members in California (see Appendix III, p. 120 in Report). Note that the total population of Mexican indigenous in California is considerably higher since our count does not include those working outside of agriculture, in particular the many who live and work in urban centers such as Los Angeles, San Jose, San Francisco. Also, our study does not count non-Mexican indigenous immigrants, such as those from Guatemala, Nicaragua, Ecuador and Peru.
How we arrived at the estimate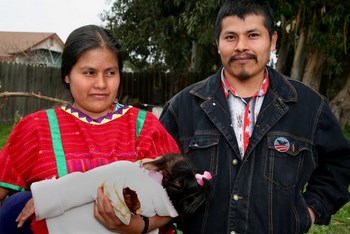 A young Triqui couple in Greenfield in the Salinas Valley. Most work picking lettuce and other vegetables in nearby fields. Photo copyright David Bacon
At the beginning of the Indigenous Farmworker Study, we conducted a count of hometown networks. In this count, we asked a wide array of indigenous people living in rural California about the settlement of people from their hometowns. All told, we spoke with people from about 350 different hometowns in Mexico and they provided estimates for the number of people from their hometowns living in different parts of California. We took this information and made an educated guess that about 54,000 people, who originated in those hometowns, now live in rural California. Since we could not find all the sending hometown networks, we recognize that this is an incomplete count. We think it is about half the actual population. To check this, we turned to the National Agricultural Workers Survey (NAWS) to make an estimate of all the indigenous Mexican farmworkers in California. Based on data from this large and long-term survey done by the U.S. Department of Labor, we estimated that in the early 1990s there were about 35,000 indigenous farmworkers in California, while in the 2004 to 2008 period there were about four times as many, or 120,000 indigenous Mexican farmworkers. With the children included, we estimate that there are at least 165,000 indigenous Mexican farmworkers and family members in California.
Two interesting facts about who lives at the indigenous residences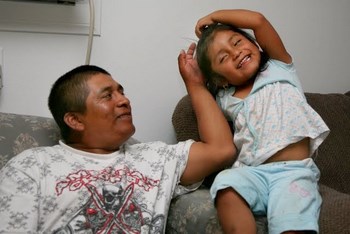 A Mixtec farm worker and his daughter at home in Taft, near Bakersfield. A community of several hundred Mixtecs from San Pablo Tijaltepec, Oaxaca live in Taft. Most have left their children in the care of relatives back in Oaxaca. Photo copyright David Bacon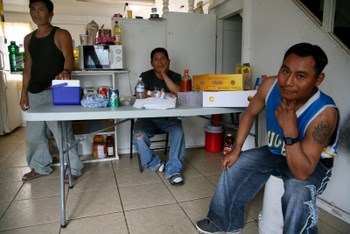 These three Mixtec men are also from of San Pablo Tijaltepec, Oaxaca. They share an apartment in Taft with other adults and children from their hometown. Photo copyright David Bacon
In the Indigenous Community Survey, one of the components of the larger study, we found two quite interesting facts about the composition of the people living at these crowded indigenous residences. First, of all the people living at a given address, we were surprised to find that about two out of five of the people were neither relatives nor close friends of the interviewee. Although these co-inhabitants of the dwelling may speak the same indigenous language and be from the same part of Mexico as the person being interviewed, many of the others at the residence were neither friends nor family of the respondent.
Second, despite the reputation of this community for having large numbers of children, we found that children represent a relatively small proportion of the total population. Only about a third of the residents at these addresses were less than 18 years old. And, among the adults, the majority (three out of five) were men. What becomes clear is that the indigenous population is made up of some families with children, but also has a large number of adult unaccompanied men. As a result, a large majority of the people at the residences are participants in the farm labor force.
Many families live with parents or married siblings
Despite the fact that some renters at the residences are relative strangers to the core families, these core families are often very closely related. About one in six of the addresses included married children living in the dwelling together with their parents. And, in many cases, there is more than one married child at these cross-generational family residences. In addition, there were quite a few residences (one in twenty) that included married siblings living together. Again, there are cases where several married siblings live together. In sum, it is quite common for these addresses to have multiple households from the same nuclear family. Over all, one in five residences had either married siblings living together, or a parent living with a married child.
Families are divided between Mexico and the U.S.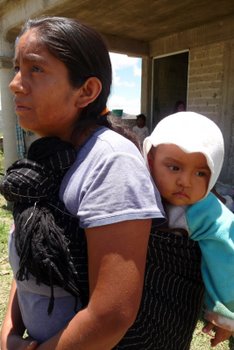 In Candelaria de la Unión, a village in the municipality of San Pablo Tijaltepec, Oaxaca, most working-age adults are in the United States. A few women and the majority of children remain behind in the village. This woman's husband works in a slaughterhouse in Michigan. Photo by Holly Mines.
These nuclear families have members divided between Mexico and the United States. About two thirds of nuclear family members are in the United States, while about one third are in Mexico. Unsurprisingly, most of the indigenous we found living in the United States are men, while back in the hometowns most are the wives and children of men working in the United States. In general, the residents of the home towns and villages are mostly older men, women and children since many of the working age men are in the United States.
Preteenage children left behind in Mexico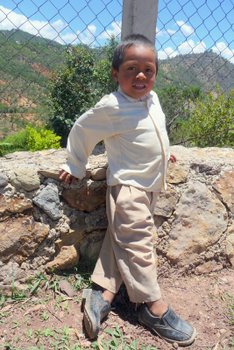 Carlitos lives in Guadalupe Victoria near San Pablo Tijaltepec, Oaxaca. Like many children in the community, his parents are working in the United States, sending money home for his support. Photo by Holly Mines.
Although we found in our survey that children from 0 to 5 are mostly in the United States, the children from 6 to 11 are mostly in Mexico (see Chart below). These families are leaving their relatively 'older' children in Mexico and then continuing to have children after they arrive in the United States. In most cases, the grandparents are raising these 'first born' children back in the hometown. We discovered that in many cases, the young married male indigenous farmworker, who usually came to California ahead of his wife, was later joined by his spouse, while the older children remained in Mexico. It appears that these families decided that they need the income of both adults. Later, as the children in Mexico reach adolescence, they begin to come to the United States to work. The boys come as soon as they reach their teenage years, the girls a bit later.